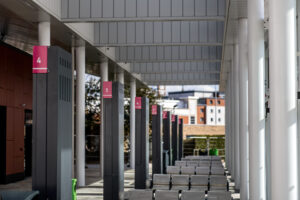 Stevenage's new bus interchange on Lytton Way has reached another milestone.  At a completion and handover ceremony, the interchange and bus station building were handed over to Stevenage Borough Council on Thursday 10 March 2022. The interchange will see buses arriving and exiting to serve the people of Stevenage from late Spring 2022.
The event was attended by representatives from Stevenage Borough Council, Hertfordshire Local Enterprise Partnership (LEP), contractors Willmott Dixon and other stakeholders including the Stevenage Town Centre Partnership.
Cllr Sandra Barr, Mayor of Stevenage, said:  "It was indeed a day to celebrate a wonderful milestone for the regeneration programme that is transforming our town.  I thank the many people from Stevenage Borough Council, Hertfordshire Local Enterprise Partnership, our colleagues at Hertfordshire County Council and, of course, the contractors, Willmott Dixon – all have worked in the spirit of true partnership to arrive at this outstanding moment in time, despite the project being delivered through the Covid-19 pandemic."
Work started on the project in late 2020, funded by a £9.6 million Local Growth Fund investment from Hertfordshire LEP, with the work completing on the first phase of the stages of the transport hub, connecting Stevenage Railway Station and the new bus interchange.
The development will drastically improve transport links across the town, provide better accessibility and align with the newly-regenerated Town Centre.
The interchange features an extensive canopy with a large glazed screen and automatic doors for easy passenger access. It also includes a passenger facilities building which provides a heated waiting area with extensive seating, live passenger information boards, a café, fully accessible toilet and changing facilities and shop mobility services.
External works include high quality public realm, seating areas with newly planted trees and a soon to be completed pedestrian connection.  This will link the bus interchange, town square and the train station, ensuring a clear connection between the existing cycle network and bus and rail networks and providing integrated links between Stevenage's main transport hubs.
Cllr Sharon Taylor OBE, Leader of Stevenage Borough Council said: "We are delighted to have reached this milestone with our partners and to see the incredible progress that Willmott Dixon has made on such a key project. The interchange is a pivotal part of our £1 billion regeneration programme which is seeing us deliver some fantastic schemes. I am really looking forward to the bus interchange opening later in the year and serving the population of Stevenage with modern, upgraded facilities."
Cllr John Gardner, Executive Portfolio Holder for Regeneration & Environment at Stevenage Borough Council, added: "The new interchange will offer a massive boost to the town centre and provides excellent upgraded facilities for everyone. It links more effectively with the newly expanded railway station and will enable a new Garden Square to be delivered at the location of the old bus station site. This is a really exciting time for Stevenage and our partners – all of whom have been integral to the success of our regeneration programme."
"We are delighted the bus interchange project has reached this momentous milestone" commented Adam Wood, Chair of Hertfordshire LEP, "which will not only improve connectivity and transport links within Stevenage but also provide an attractive gateway for visitors that befits the redeveloped Town Centre. The scheme forms a key part of our £34m Local Growth Fund investment towards the town's regeneration, set to help bring forth new homes, public amenities, and retail and business space to maximise the town's economic potential."
Simon Ramage, Director at Willmott Dixon concluded:
"We're incredibly proud to be handing over the bus interchange to Stevenage Borough Council and to have delivered these fantastic new facilities for the local community. As a locally based construction company, we're delighted to be part of the regeneration programme which is benefiting not only Stevenage, but also the surrounding areas."