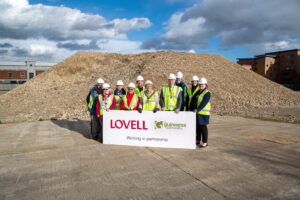 The Guinness Partnership, one of England's largest Housing Associations, held an event to celebrate breaking ground on the first phase of their development at the former Matalan site in Danesgate, Stevenage.
The event was attended by The Guinness Partnership's Head of Development Delivery, Denise Mulligan, and Lovell Regional Managing Director, Mick Laws as well as representatives from Stevenage Borough Council and Stevenage Development Board and global consultancy, Turner & Townsend.
Lovell Partnerships, the appointed contractors will be starting construction at the prominent town centre site which was granted planning permission in 2021 by Stevenage Borough Council for the development of a new high quality residential community, designed by award-winning architects Maccreanor Lavington.
Thanks to additional funding from Homes England, the overall plans involve the construction of 526 one and two-bedroomed apartments along with 779 sq. m of flexible commercial space located at street level which aims to create active street frontages.
The delivery of the new development will take place in phases, the first of which being two blocks located on the eastern part of the site facing Danestrete and the top end of Danesgate. Phase 1 will provide 143 one and two-bedroomed apartments and all new homes will be offered as affordable tenures, providing a new and very valuable source of low cost homes located in the heart of Stevenage. It will also include one of the internal landscaped gardens serving the development.
The expected construction programme for the first phase is completion by the end of 2024/early 2025. Future phases are expected to follow from 2025 onwards.
Global professional services company, Turner & Townsend, is Guinness's Project Manager and Employer's Agent for the contract, having provided consultancy services throughout the pre-construction design and enabling (including demolition) stages of the project.
Jon Milburn, Group Development Director, at The Guinness Partnership said: "We are pleased to start work on this important residential-led regeneration project which very much complements the Borough Council's ambitions for a vibrant and revitalised town centre. We are grateful for the support and positive approach of Stevenage Borough Council since we first acquired the site, as well as Homes England who have injected vital financial backing to make this project a reality in a challenging economic climate."
Mick Laws at Lovell Partnerships said: "We are delighted to be partnering Guinness on this construction project which will create a significant number of jobs on-site. We are supporters of the Considerate Constructors Scheme and will ensure, as we always do, that we engage positively with the local community to minimise construction impacts."
Jonathan Edmondson, Senior Provider Manager at Homes England, said: "Homes England is committed to supporting partners that have ambitions to build new homes and our investment through affordable housing grant allows us to do that. The development of the Matalan site is clear evidence of the impact our Strategic Partnership with Guinness is having in providing much needed new homes in Stevenage."
Cllr Richard Henry, Leader of the Council at Stevenage Borough Council, said: "It will be great to see work underway on this site, which forms an important part of the overall vision we have for Stevenage town centre. We are transforming the town by introducing new facilities, town centre living, transport infrastructure and activities for all, and our successful partnership working with The Guinness Partnership is helping this to be realised".