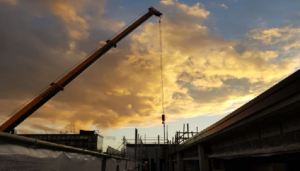 Stevenage Borough Council and the Local Enterprise Partnership have secured over £1m worth of funding through the Government's Growth Deal 3 (GD3) programme to develop a new multi-story car park in the town centre and to facilitate vital enabling works to support regeneration plans.
Parking availability has been raised as a concern in the various consultations the council and its partners have held in recent years. The new facility will be based to the North of the Railway Station and will act as a sustainable transport hub including secure cycle storage and car parking, linking to the Railway Station and new Bus Interchange.
It will help to manage the future growth in demand for parking created by the ongoing 20-year, £1bn regeneration programme in the town centre and will provide additional spaces for both commuters and people living and working in Stevenage. The scheme will also help to cover the loss of existing surface car parks that are being redeveloped as part of the wider regeneration programme.
The development has been funded through the Growth Deal 3 programme put forward by the government which Stevenage Borough Council and the LEP have bid for. This is the second Growth Deal the council has successfully bid for in recent years, with funding from Growth Deal 1 being invested into a variety of public realm improvements such as the redevelopment of Market Place and the Town Square along with acquiring additional land in preparation for future regeneration programmes
Leader of Stevenage Borough Council, Cllr Sharon Taylor OBE, said.
"We recognised the need for new facilities and have put together bids to secure funding opportunities meaning these developments, like our wider regeneration programme, come at no additional costs to residents. The sustainable hub will also benefit the greater number of people who are cycling or walking to the station or to the various employers based nearby. And, with more people living and working in the town centre in the future, we know there will be a need for additional parking. It may not be the most exciting of all our upcoming programmes, but it's key to unlocking additional growth and investment in Stevenage."
You can find out more about the ongoing regeneration programme at www.Stevenage-Even-Better.com