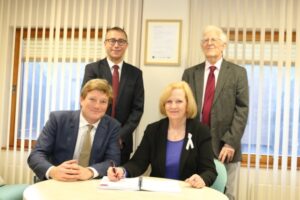 Stevenage Comet – Queensway North: £50m contract signed
Louise Mcevoy
13th December 2018
Stevenage Borough Council has partnered with Reef Group to spearhead the Queensway North regeneration scheme, which comprises of the former Marks & Spencer store and adjoining retail parade.
Funded by Aviva Investors, the borough council said the scheme will be transformational, updating tired and dated buildings and shopping areas for the first time in many years.
The development – which will be the first of the borough council's mixed-use regeneration projects – will also include 45,000 square foot of new retail and restaurant space, a gym, new offices, an innovation and technology centre, and 116 apartments.
It is hoped the move will bring shoppers back into the town centre, as well as revive the night-time economy.
Councillor Sharon Taylor, the leader of Stevenage Borough Council, said: "Our vision is to reinvigorate the centre of Stevenage, and with Reef Group now on board we're in a great position to deliver on this vision.
"Together we're bringing a new and different type of shopping experience, an innovation and technology centre, and more homes into the heart of our town, which will create a new and vibrant place for more people to shop, work and play."
The chief executive of Reef Group, Piers Slater, said: "Working closely with Stevenage Borough Council, Reef Group are excited to have been able to embark on our shared vision to regenerate this important area of Stevenage.
"We're delighted to be bringing new investment, occupiers and users to create a new district where people want to work, shop, and live."
Mark Wells, director of Aviva Investors, said: "Reef and the council have impressive plans for the scheme which will give the town centre a new lease of life, supporting both housing need and economic development."
Planning permission for the development was obtained in August and the first phase – the commercial aspect of the scheme – is due to be complete at the end of 2019, with the second phase – consisting of more than 100 new homes – set to be completed 12 months later.
https://www.thecomet.net/news/50-million-queensway-revamp-kick-starts-stevenage-town-centre-regeneration-1-5816168