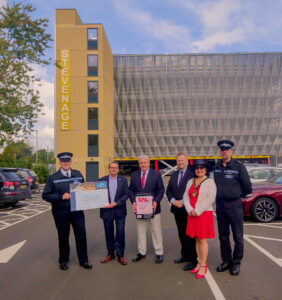 Stevenage Borough Council once again demonstrates the highest standards across its parking operations as its new Railway Station North car park has been awarded the Park Mark Plus award, the first car park in Hertfordshire to receive this.
Park Mark Plus is a comprehensive assessment demonstrating the highest quality of today's modern car parks in services, operations, design and build.  To achieve the award, car parks must demonstrate a wide range of responsibilities.
Building on the well-regarded Safer Parking Scheme's Park Mark award, Park Mark Plus recognises only the highest quality car parks. The Railway North car park in Stevenage opened in May 2023.  Adjacent to Stevenage Railway Station, the car park provides 622 spaces, an increase from the previous car park that had 339 spaces. There are 30 blue badge spaces, as well as 30 spaces that are available for electric vehicle charging. There is CCTV in the building and cashless pay machines. There is secure storage for 80 bicycles in a dedicated, covered space adjacent to the car park. The car park built by contractor Huber has no columns, which greatly aids vehicle movements.
The award of Park Mark Plus demonstrates that its facility provides police-approved accredited parking, and has reached the standards of the Disabled Parking Accreditation and a range of environmental, structural, operational and customer services criteria. This is a fantastic achievement and recognises that Stevenage Borough Council has parking facilities with measures in place that actively deter crime and the fear of crime in car parks.
Cllr Richard Henry, Leader of Stevenage Borough Council, commented: "We strive for excellence in all projects that we deliver and being awarded the Park Mark Plus accreditation is a testament to the fantastic team who helped to deliver this facility. Our transport infrastructure needs to be modern and meet the needs of the consumers of today, and the car park certainly achieves this. It is a real honour to be the first car park in Hertfordshire to have achieved this accreditation and my thanks go to everyone who made this possible".
The car park received funding from the Government's Towns Fund. Stevenage Development Board secured £37.5m, the second joint highest bid in the country. £1.1m was contributed as part of the multi-million-pound Growth Deal funding secured by Hertfordshire Local Enterprise Partnership (LEP) for Stevenage regeneration.
Adrian Hawkins OBE, Chair of Hertfordshire LEP and Stevenage Development Board, said: "Stevenage Development Board brings together diverse stakeholders to take forward a clear vision for the town. We want our town to be a top destination to live, work and visit. This car park, together with the new bus interchange and improved sustainable transport links, acts as a central gateway to our STEM city, widening opportunities and access for all. We are delighted to receive this award."
Cllr Lloyd Briscoe, Executive Member for Economy and Transport at Stevenage Borough Council, said, "Stevenage town centre is being transformed and a key part of this is making our town centre accessible and linking different modes of transport. This accreditation recognises the standards that are included within the car park to make it safe, accessible, and well maintained for our residents, communities, businesses, and visitors."
Chief Inspector Graeme Walsingham said, "The regeneration of the town is an exciting project and has our full support. We will continue working with our local partners to help keep the area a safe place to live, work and visit."
Mark Montgomery, Crime Prevention Design Officer/Designing Out Crime Officer, Hertfordshire Constabulary said, "It is a pleasure to work with Stevenage Borough Council on their regeneration projects and I am especially pleased to see that not only did they achieve The Safer Parking Park Mark award, they have also won the distinction of achieving the first Park Mark Plus award within Hertfordshire. Another first for Stevenage."
Antony Powell, BPA Area Manager said, "Many congratulations to Stevenage Borough Council in gaining Park Mark Plus accreditation for the new Railway Station North multi-storey car park. Everyone involved in the design, construction, management and operation of this excellent facility should be proud of this achievement."
For more information visit www.britishparking.co.uk/Park-Mark-Plus
To find Park Mark awarded car parks visit www.parkmark.co.uk
 Photo left to right:
Chief Inspector Graeme Walsingham, Hertfordshire Constabulary
Cllr Richard Henry, Leader of Stevenage Borough Council
Cllr Lloyd Briscoe, Executive Member for Economy and Transport at Stevenage Borough Council
Adrian Hawkins OBE, Chair of the Hertfordshire LEP and Chair of the Stevenage Development Board
Mayor of Stevenage, Cllr Myla Arceno
Inspector Nick Redfearn, Hertfordshire Constabulary