Stevenage Bus Interchange to open on Sunday 26 June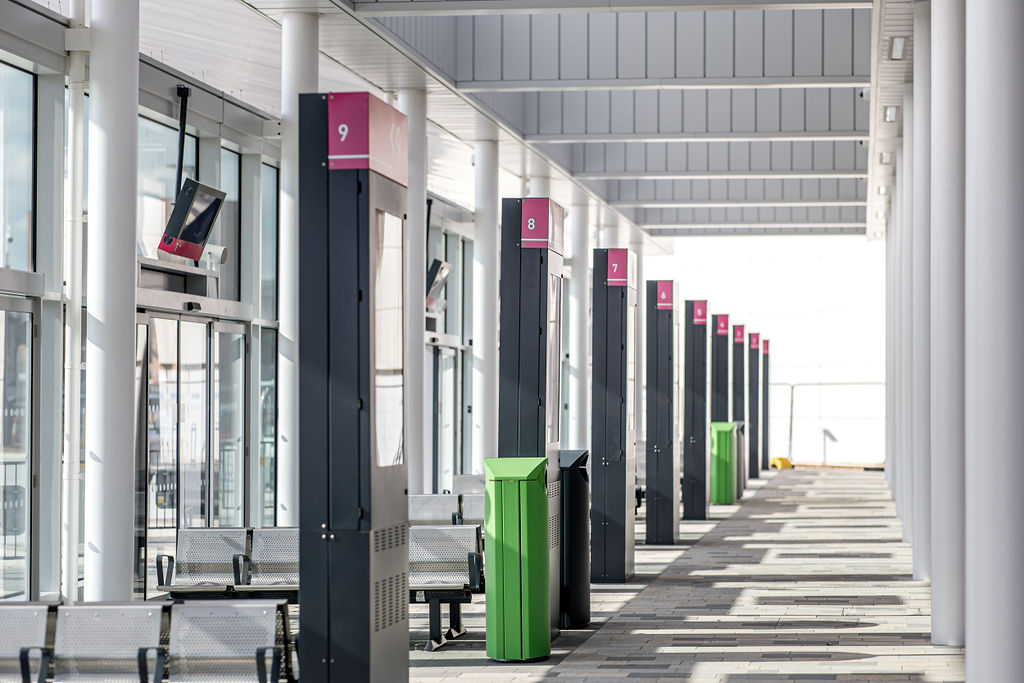 The new Stevenage Bus Interchange on Lytton Way will be opening on Sunday 26 June. The opening will see buses arrive and leave from this date to serve local communities and visitors. From this date, there will be no more services from the existing station on Danestrete.
Designed by Stephen George + Partners (SGP), the Bus Interchange was recently awarded 'Project of the Year' at the Hertfordshire & Bedfordshire Constructing Excellence Club Awards 2022. The awards highlight design and innovation in construction.
Construction on the new facility began in late 2020, funded by a £9.6 million Local Growth Fund Investment from Hertfordshire Local Enterprise Partnership (LEP). Passenger experience is a key focus, with modern facilities such as a climate controlled waiting area with seating, live passenger information boards, a fully accessible toilet and changing facilities, in addition to further unisex toilets with baby changing facilities. A café and shop will additionally be coming soon.
Visitors to the town centre will see an improved public environment with new granite planters, paving and additional seating areas, improving the walkway from the town centre to the Bus Interchange. This includes seating and newly landscaped areas with planted trees and wildflower meadow areas with bulbs to add colour, but also performing a vital role as part of a sustainable drainage strategy. The project has also delivered new coach stands along Lytton Way – a new facility including shelter, seating and live information boards. The new landscaped cycle and walking routes connect the railway station, coach stands and the new Interchange to the Town Centre.
Cllr Sharon Taylor OBE, Leader of Stevenage Borough Council and Portfolio Holder for Regeneration, said: "This is a really exciting development for Stevenage, offering our communities and visitors an improved bus experience right in the centre of the town. The opening of the award-winning Interchange brings with it modern facilities, an improved public realm and increased accessibility between our main transport hubs. Furthermore, this marks a pivotal moment in our wider regeneration programme, as we look ahead to a proposed new development at the soon-to-be vacant bus station site on Danestrete. We are delighted to have a confirmed opening date and would like to thank all of our partners for helping us to achieve this".
Cllr Lloyd Briscoe, Portfolio Holder for Economy, Enterprise and Transport at Stevenage Borough Council, commented: "We are creating a sustainable travel hub for Stevenage of which the Bus Interchange is a key element. Together with the Interchange, the new multi-storey car park – which is under construction and will include spaces for electric vehicle charging and secure storage for bikes – and the railway station will offer residents and visitors a number of ways to travel".
Live passenger information boards have been installed within the Interchange, providing real time information as to the status of services to and from the town. These will enable passengers to better plan their travel and be kept informed in real-time regarding their journey.
Adam Wood, Head of Infrastructure & Regeneration and Herts IQ Programme Manager at Hertfordshire LEP, said: "We see this as a game-changer for Stevenage. The Bus Interchange marks the next major step in the reinvigoration of the town centre and demonstrates the importance of carefully targeted public investment to secure major private sector regeneration schemes. We very much welcome the improved connectivity that this new transport Interchange will bring to Stevenage, both for those already travelling around the town and to encourage more people to come for work and leisure.
"The LEP invested £9.6m Local Growth Fund in the Interchange which is a key element of our £34m Local Growth Fund commitment towards the town's regeneration, which is already providing new homes, public amenities, and retail and business space to maximise the town's economic potential. We look forward to seeing Stevenage evolve!"
Accessibility between the main transport hubs and town centre has been enhanced, with level access pedestrian crossings across Lytton Way. This provides an alternative route to the bridge.
Simon Mathieson, Area Operations Director – Midlands & South from Arriva, the primary bus operator using the Stevenage Interchange, added: "We are pleased that the new Stevenage Bus Interchange is completed and ready for use, we are excited to see our passengers enjoy the brand-new facilities that this investment into the local transport network will have on them."
A planning application has been submitted to the local planning authority for proposals to transform the current bus station on Danestrete when the Bus Interchange opens and the existing station becomes vacant.