Multi-Storey Car Park adjacent to Stevenage Railway Station opens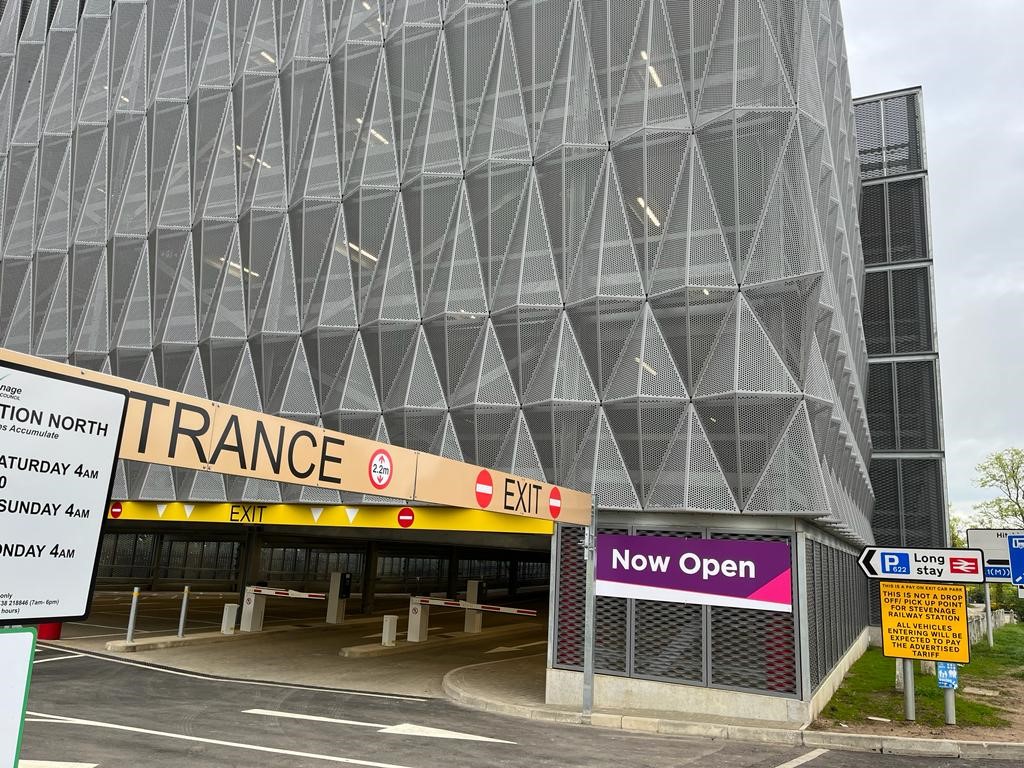 The new multi-storey car park adjacent to Stevenage Railway Station is open. The car park is operational 24 hours a day and is a long stay car park.
The new car park provides 622 spaces, an increase from the previous car park that had 339 spaces. There are 30 blue badge spaces, as well as 30 spaces that are available for electric vehicle charging. There is CCTV in the building and cashless pay machines.
In addition to vehicles, there is secure parking for 80 bicycles in a dedicated, covered space adjacent to the car park. There is also space for three larger cycles. This facility is being run by Spokesafe.
A series of Frequently Asked Questions will provide you with information on the facility, including the cycle storage. Please see these below.
Q: What is the tallest vehicle that can enter?
A: The car park has a height restriction of 2.2 m. Vehicles over this height can park in the Railway South car park.
Q: How many electric vehicle points are there?
A: 30 spaces will be immediately available for use by electric cars. There are further car parking spaces that have the necessary infrastructure to be converted to electric vehicle spaces as the demand increases.
Q: How do you pay for electric vehicle charging?
A: Payment is taken through the Blink Charging – EB Go! app, using the same provider as at St George's multi-storey car park, The Forum car park and on-street on Swingate.
Q: Will the charging points charge all electric vehicles?
A: The charging points will give a charge at up to 7kW via a type 2 socket which is compatible with almost all EVs on the market.
Q: Where are the blue badge spaces located?
A: The blue badge spaces are split across different levels, with most of the spaces at ground level. The car park has two lifts to allow movement between floors. The spaces are located as close as possible to the lifts.
Q: What hours will the lifts be in operation?
A: The lifts are in operation during train running times.
Q: Are there columns throughout the car park?
A: No, the car park contains no columns. This design creates more unobstructed space for individual cars and to allow ease of parking and manoeuvring.
Q: Where is the entrance and exit?
A: The entrance and exit to the car park is on Lytton Way, as it was with the former surface level car park. There are two entrance barriers and two exit barriers.
Q: Does the car park use chip coins like the others in the town?
A: No. The car park uses licence plate registration. This system calculates how long a car has been in the car park without the need for chip coins.
Q: How much does it cost to park?
A: The parking costs are available here: Parking (stevenage.gov.uk). Parking charges are reviewed for all car parks annually.
Q: How do I purchase a season ticket?
A: Information about purchasing a season ticket can be found on our website: Car Park Season Tickets (stevenage.gov.uk)
Q: I have been using a season ticket in another car park. Will it transfer across?
A: As long as the appropriate details have been provided to our car parks team, this will transfer across to the new car park.
Q: Where do taxis collect people from?
A: The taxi rank remains in its usual location and pick-ups and drop offs are not affected. You cannot pick up and drop off in the new car park site.
Q: Are the two-tier cycle stands remaining?
A: The two-tier cycle stands within the taxi rank location remain as they are.
SPOKESAFE SECURE CYCLE STORAGE
Q: What is Stevenage Railway North Secure Cycle Parking?
A: Stevenage Railway North Secure Cycle Parking provides a safe place for bikes to be left, in a secure storage facility operating 24 hours a day, seven days a week. There are 80 spaces available, along with 3 spaces for larger bikes. The facility is covered to protect bikes from the elements.
Specialist operator Spokesafe will manage the storage through its purpose-built app.
Spokesafe provide cyclists with access to a network of secure places to park. The Stevenage facility accepts bikes only, with three spaces for larger cycles.
There is a repair stand available next to the storage.
Stevenage Railway North Secure Cycle Parking (spokesafe.com)
Q: Where is it located?
A: The secure cycle parking is located at the pedestrian entrance of the new multi-storey car park, which is opposite the bottom of the stairs as you exit the railway station towards the taxi rank.
Q: When is it open?
A: The cycle parking is now open. It will be open 24 hours a day, 7 days a week, all year round.
Q: How does it work?
A: Cyclists can gain access to the facility via the Spokesafe app, which you will need to sign up to. When you would like to park your bike, log into the app to request a code to gain entry to the building via a keypad. You should still bring a lock to secure your bike to the stand.
Q: What is the price?
A: Membership costs £10 a month or £1 per day for Pay As You Go bookings. Monthly memberships provide unlimited access to the facility.
Q: Where do you subscribe?
A: You can sign up at www.spokesafe.app. Please note this will require a form of photo ID to complete the registration. All members receive full access instructions once they have signed up.
Q: Do I get a reserved space?
A: Membership provides users with access to the facility and you are not allocated a reserved space. However, Spokesafe monitor usage levels closely and will pause taking on new members should the facility be regularly full.
Q: How long can I leave my bike in the facility for?
A: Bicycles can be left for up to 1 month. Bike dumping is something that Spokesafe monitor. When signing up you will add your bicycle to Spokesafe's database, and the owners of any bikes which appear to be abandoned will be contacted. If Spokesafe do not hear back from you, the bike will be donated to charity.
Q: What happens if I need help accessing the facility?
A: For general enquiries & questions, please email hello@spokesafe.com.
Spokesafe operate a 24/7 emergency helpline where you can speak to a friendly member of their team straight away. The number is 020 3488 0060.