GSK unveils plan for life science campuses in Stevenage
Plan aims to unlock up to £400 million of new private investment and create up to 5,000 new highly-skilled jobs over next decade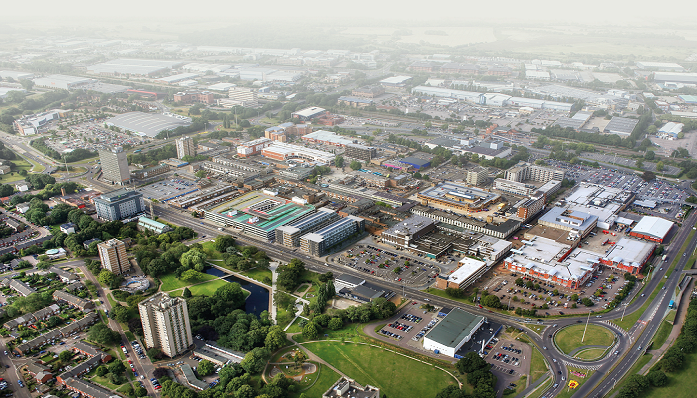 Plan aims to unlock up to £400 million of new private investment and create up to 5,000 new highly-skilled jobs over next decade
Stevenage could become one of Europe's largest 'clusters' for biotechnology and other early-stage life science companies
Vision for campus developed in partnership with Stevenage Bioscience Catalyst, UK Government and Stevenage Borough Council; GSK to make 33 acres of land available for development at the company's R&D site in Stevenage
GSK has today announced that it has formally started the process of seeking a development partner to transform land within the company's existing 92-acre Research & Development site in Stevenage into one of Europe's largest 'clusters' for biotechnology and other early-stage life science companies.
The vision for the new campus has been developed in partnership with Stevenage Bioscience Catalyst (SBC), the UK Government and Stevenage Borough Council, and would build on the existing presence of GSK, the Cell and Gene Therapy Catapult and the SBC on the site.
As part of proposals set out today, GSK is looking to sell the 33 acres of land, with an aim to subsequently unlock up to £400 million in new investment from a private sector developer to build the new campus and potentially create up to 5,000 highly-skilled jobs, over the next five to ten years. The company expects to select a development partner later this year, with a view for work to begin on master planning for the new campus in 2022.
Tony Wood, Senior Vice President, Medicinal Science & Technology, GSK said: "The past 18 months has shown the UK life sciences sector at its best. To build on this success, GSK is working to foster the next generation of world-class scientists and biotechnology firms in Britain, alongside our partners in the UK, including the UK Government – which recently unveiled an ambitious 10-year vision for the UK life sciences sector. Our goal is for Stevenage to emerge as a top destination for medical and scientific research by the end of the decade, and we're excited to find a development partner to realise that vision."
Cllr Sharon Taylor OBE, Leader of Stevenage Borough Council: "I am deeply proud that Stevenage is home to a world-leading life science cluster and welcome plans for a new life sciences campus.  This will cement our standing as a leading STEM location within the UK.  As we recover from the Covid-19 pandemic, it is vital that we create new, quality jobs and opportunities for our town and our country.
Our shared commitment is to make Stevenage even better, working with businesses, residents, community groups and partners to help regenerate the town and create many new jobs and opportunities for local people.
We look forward to continuing our work with the life sciences sector to make Stevenage a leading light in the  discovery and development of the medicines of the future."
If successful, the new campus could attract several world-class research organisations to Stevenage, creating exciting opportunities for collaboration in a state of the art, life science ecosystem. The highly-successful Cell and Gene Therapy Catapult and Stevenage Bioscience Catalyst, which are both already on the site and have attracted a number of successful start-ups which collectively have raised around £1.6 billion of funding, were set up with a mixture of public and private sector support – including from GSK – are involved in the plans which should enable their expansion.
The new campus – which would sit next to one of GSK's existing site at Stevenage – could ultimately deliver 100,000 square metres of new floorspace for commercial life sciences research and development.